Our Client Feedback
I engaged Outer Spaces to undertake the landscaping to my backyard after we had a big landslide a couple of years ago. I found Adrian and his team to be very professional and helpful. Nothing was too much to ask of the team, and the end result is fantastic. I would highly recommend Adrian and his team to anyone considering undertaking a landscape project.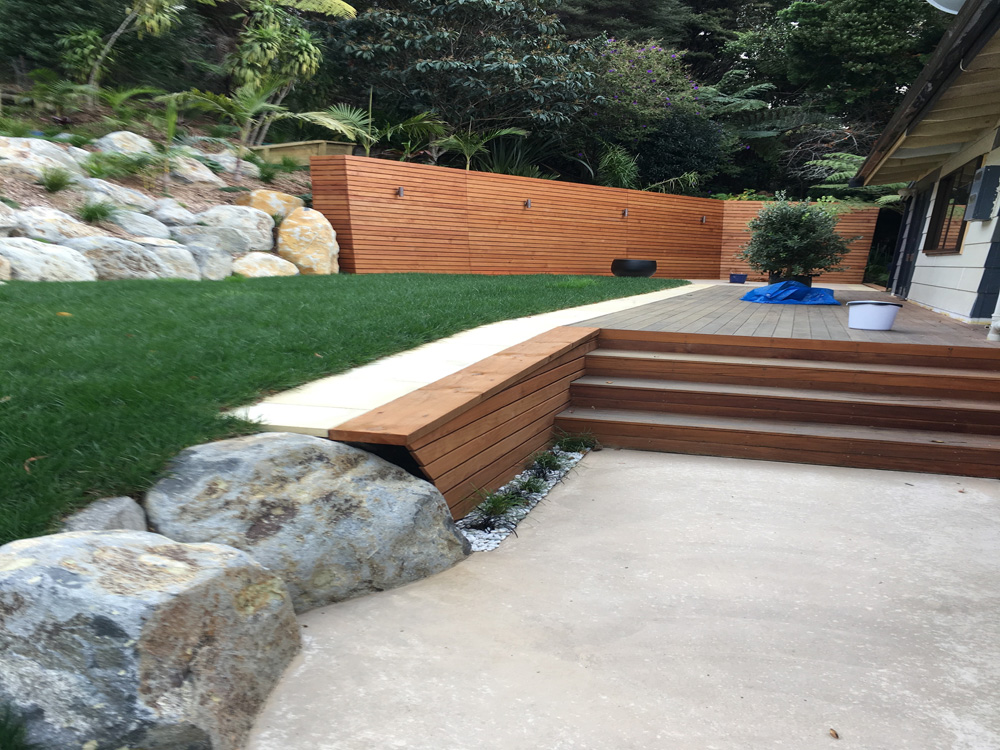 We engaged Adrian and his team from Outer Spaces Landscaping to design and install our beautiful garden on Seaforth Rd, Waihi Beach.
The whole process was stress free and we found Adrian and his team very easy to work with. They were attentive to our wishes and created an amazing space which has developed into a garden that we love. The bonus was that it came in under budget! Adrian has also been very generous with follow up advice.
Thank you so much for reappearing three times over a period of 7 months !
It was the only way I could see to complete the turfing of my new section and at the same time, keep my animals dirty little footprints out of my recently completed house.
You and your team of hard workers are fantastic to have around ! You arrived on time - or early - for every appointment. You worked so well together with speed and accuracy and before I could blink, there it was, brand new grass, and the edgings which you laid using the leftover bricks.
Next step only a month or so ago - my paved herb potager and area under the clothesline. Again you surpassed yourselves and the completed garden will be great come spring when I can get out there and plant it up.
I am just so relieved that 3/4 of my section is now grassed, and edged. A huge thank you for a top notch job that both of us can be so proud of.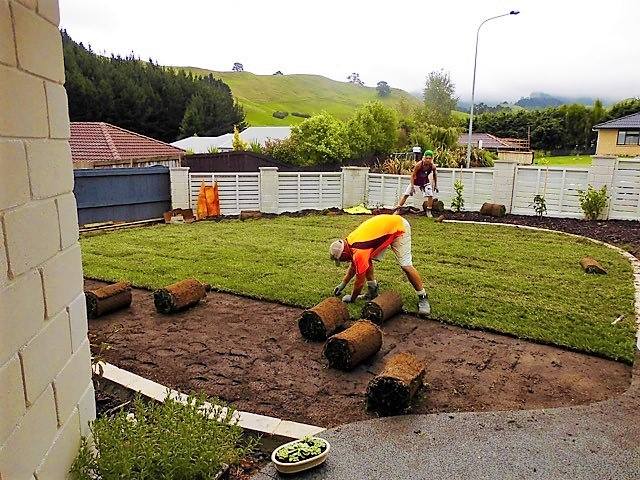 Dear Adrian & team
Thank you so much for the time, care & patience you put into helping me design the landscaping for my new build at the northern end of Waihi Beach. I knew nothing about gardening going into this and your patience in explaining the growth profile of different plants to me was invaluable. I was looking for a "beachy" low maintenance garden (on a budget) and I love the concept you've developed. The cascading plants and trees have already started "softening" the retaining walls and the ground cover plants provide character whilst being highly effective erosion protection. I also love the textures and colours that have emerged as the garden has grown over the past year.
Thank you so much.
Outer Spaces was tasked with the huge job of taking a completely over-run section, stripping all of the existing garden and replacing it with new paths, lawns, decking, pergola and gardens, including feature steps and a large rock garden. Adrian and his team did an outstanding job, they listened to our ideas and were friendly and professional at all times. We have no hesitation in recommending them.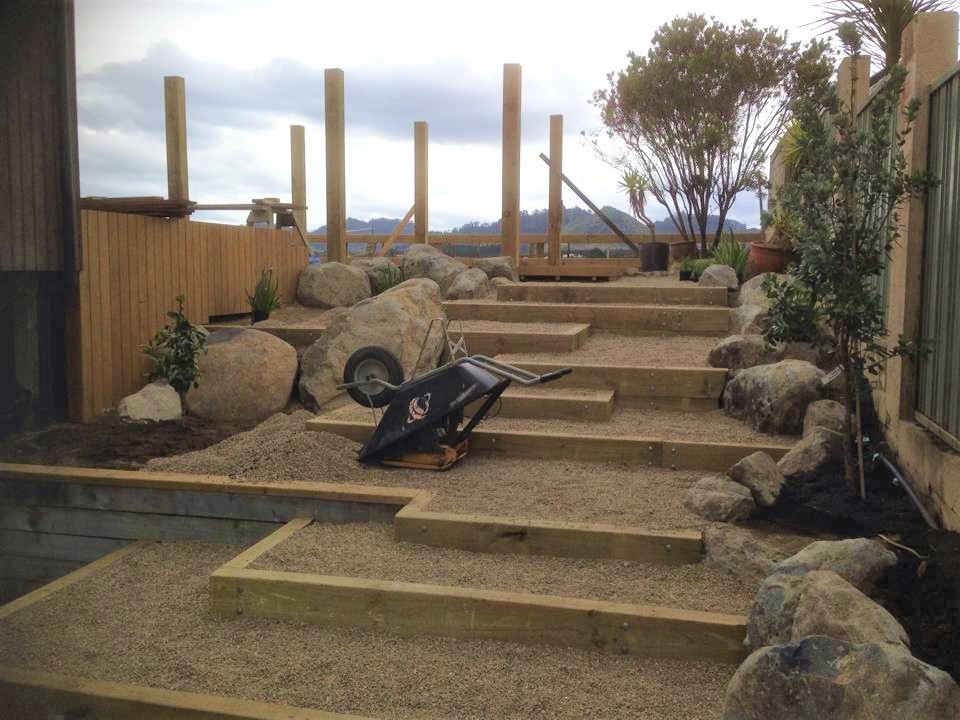 The team at Outer Spaces listened carefully to what we wanted to achieve, and provided top class garden design sympathetic to our rural/coastal position here in Kauri Point, Katikati.
We love our garden, and always get great comments from visitors who enjoy soaking up the effect with a good glass of wine sitting on the huge rocks around the new fire pit! The plan included substantial building work with pergola, and large rockery, retaining walls, steps, concrete and paving works, and huge raised vegetable gardens.
Done in 3 stages, we were both extremely happy with the workmanship and care that was taken around our property, We enjoyed having the boys back for stage 2.
Josh and Adrian are always willing to 'go that extra mile' to get the finish and look that you're looking for, and provided some great ideas and guidance along the way.
Alistair and I would highly recommend this team for any landscaping job that you may have - big or small! We haven't finished with you yet Adrian and Josh……we look forward to Stage 3 in the near future and have enjoyed being part of your team 😊